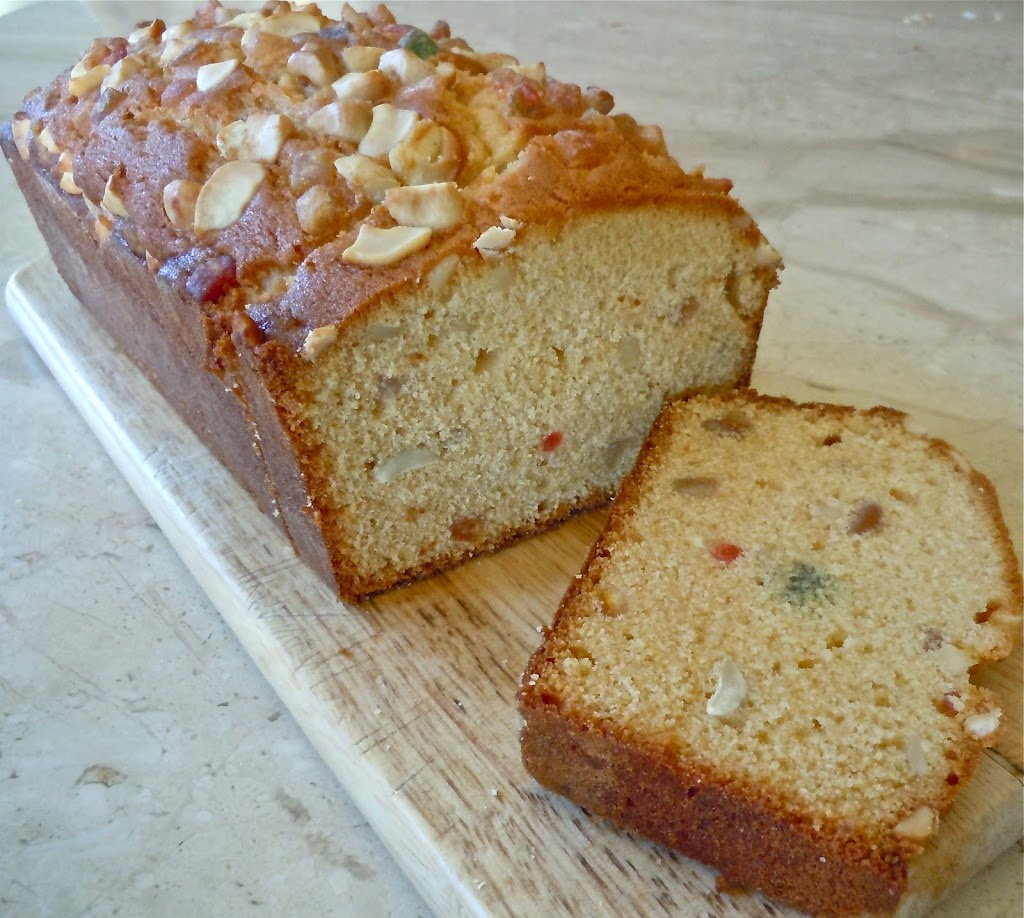 When celebrating Christmas in India, baking a cake is as important as decorating a tree in America. Growing up in Lucknow, I visited my Christian friends on Christmas day and was offered pieces of Christmas cake with sips of rum! The aroma of this cake baking in my kitchen still evokes fond memories. The classic (Indian) Christmas Cake is a pound cake with a touch of candied citron, candied peels, and nuts. Rum and burnt sugar syrup are important ingredients as well. Since most people did not have ovens back then, we would take all the ingredients to a bakery where the baker would weigh everything and give back the same weight of cake when it was done!
My version calls for less butter and eggs and has a light and moist texture.
ingredients: 
1/2 cup caramelized sugar syrup (see note)
3/4 cup chopped candied mixed fruit and peel (see note)
3/4 cup chopped raw cashews
2 Tbsps. all purpose flour
1 cup (2 sticks) butter
1 1/2 cups sugar
4 eggs
1/4 cup milk
2 Tbsps. rum
2 tsps. vanilla extract
2 1/2 cups all purpose flour
2 1/2 tsps. double acting baking powder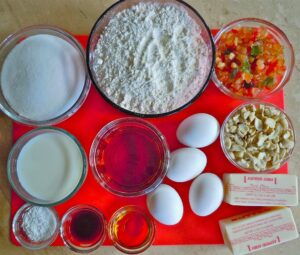 note:
To prepare caramelized sugar syrup, heat 1/2 cup sugar in a heavy bottomed saucepan over medium-low heat. When the sugar melts and begins to darken to a coffee color, slowly add 1/2 cup boiling water. Stir until all the sugar is dissolved into a caramel sauce. Turn the stove off and set aside to cool.
If you are not a fan of candied citron, you can use chopped, dehydrated pineapple, raisins, cranberries or a combination of all those.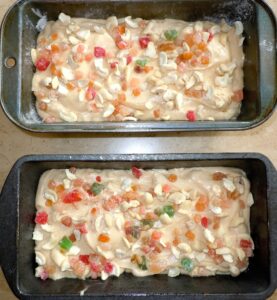 preparation:
Have all ingredients at room temperature.
Preheat oven to 325 degrees F.
Dredge candied fruit, peel, and cashews in 2 tablespoons flour, set aside.
Spray 2 nine inch loaf pans with non stick spray.
Cream butter and sugar until light and fluffy.
Add one egg at a time while continuing to beat.
With the mixer still running, slowly add milk, caramel syrup, rum and vanilla.
Add flour, baking powder. Mix well.
Turn mixer off and gently fold the fruit-nut mixture into the batter with a spatula, reserving some to sprinkle on the top.
Pour evenly into 2 loaf pans, sprinkle reserved fruit mixture on top.
Bake in middle of oven for 40-50 minutes or until a toothpick comes out clean.
Let cakes rest in the pan for 10 minutes.
Invert onto a wire rack, cool completely before slicing.
Copyright © Rashmi Rustagi 2012. All Rights Reserved.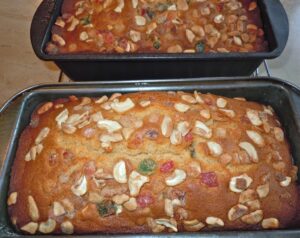 ---