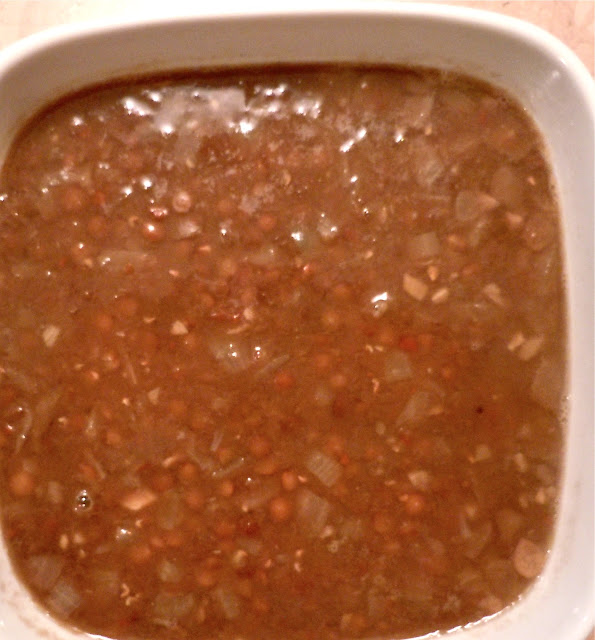 Lentil or Masoor is one of my favorite Daals. Lentil is also used as a snack when soaked and deep fried; a popular ingredient in 'Daalmoth'. In my blog posting 'All about Daals', I have grouped Lentils in group 2 along with whole and split Green Peas, whole and split Yellow Peas, whole Moong beans, whole Urad beans and Chana Daal, based on their cooking time and the seasonings used. You can cook any Daal in group 2 using Lentil recipe.
ingredients:
1 cup dried Lentils
2 tbsps. butter/ghee/oil
1/2 cup chopped onions
2-3 cloves garlic
1 tsp. minced ginger
1 bay leaf
3-4 cloves
1 inch stick cinnamon
1-2 brown cardamoms, whole
1/4 tsp. red pepper flakes
1 tsp. salt
3 cups water
note: 
Unsoaked Lentils will require more water and take longer to cook.
preparation:
Rinse and soak Lentils for 2 hours or more.
Melt butter in a medium saucepan.
Add onions, cook until onions start to brown.
Add garlic, ginger, stir for a few seconds.
Add bay leaf, cloves, cinnamon, cardamom and pepper flakes, stir for a few seconds.
Add drained Lentils, salt, and water, bring to a boil and simmer covered, until Lentils start to fall apart (about 30 minutes).
If using a pressure cooker, cook on medium heat for 4 minutes after the pressure is built. Daal will continue to cook until the pressure goes down. You can also cook Daal in a slow cooker for 4 hours on high setting.
Add more water to bring to desired consistency.
Taste and adjust seasonings.
Serve with rice and/or roti.
Copyright © Rashmi Rustagi 2012. All Rights Reserved.
Whole Moong Daal: Follow the recipe for Lentils, garnish with fried onions.
Whole Black Gram or Urad Daal: Follow the recipe for Lentils, add a pinch or two of asafoetida (hing) instead of garlic.
Lentil Soup: To serve as soup, you can cook Lentils in broth instead of water. Add a dollop of low fat sour cream just before serving.
---