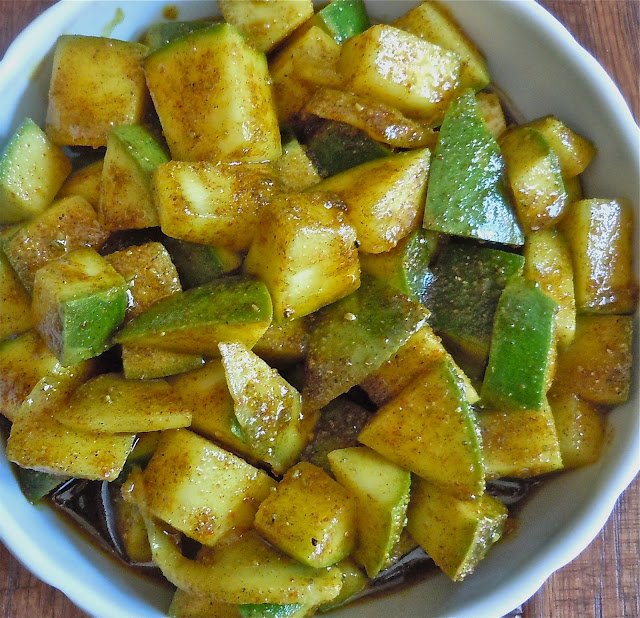 The most popular fruit for pickling or making Achaar in India is the Mango, the king of all fruits. During early summer you can buy raw (green), sour mango called 'cairy' and preserve it by pickling, making relishes and chutneys. After mixing with spices and oil, the Achaar is cured by putting it in the hot Indian sun. A lot of salt is added to most Achaars to prolong the shelf life. I warm up the mango and spices in the microwave so the spices can bloom right away and add very little salt so I suggest that you store it in the refrigerator. Green mango is available in America almost all year round at the Indian markets because they import it from Mexico and Cuba as well.
ingredients:
1 medium green mango
1+ tsp. salt
3 tbsps. Achaar Masala
2 tbsps. extra virgin olive oil or mustard oil
2 tsps. cayenne pepper
1 tsp. sugar
note:
You can buy the Achaar Masala on the Shop page.
preparation:
Rinse and wipe mango.
Cut the flesh off with a long knife. If mango is very young, there will be a tiny, soft seed and you will be able to cut through the middle. If the seed has matured, you have to cut around it just like a ripe mango.
Cut flesh into bite size pieces.
In a microwave safe bowl, mix mango pieces and salt.
Microwave on high for 1 1/2-2 minutes.
Turn out into a plate lined with paper towels and pat dry.
In the empty bowl, place oil, Achaar Masala, cayenne pepper and sugar and microwave on high for 1-1 1/2 minute until oil gets hot.
Mix in mango pieces, let Achaar cool.
Taste and adjust the salt and pepper.
Achaar is ready to eat!
Store in a glass jar in the refrigerator.
Copyright © Rashmi Rustagi 2012. All Rights Reserved.
---