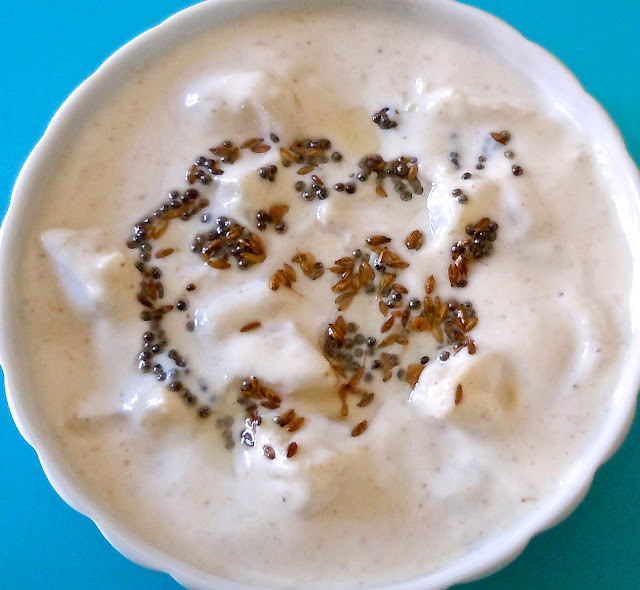 An Indian meal is not complete without a yogurt dish or plain yogurt. Yogurt is a great accompaniment to the spicy curries and serves as a palate soother. It completes the meal by providing protein and probiotics.
Raita is basically yogurt or buttermilk mixed with a combination of fruits, nuts, vegetables, grains, herbs and seasonings. Most popular Raitas are Cucumber Raita, Potato Raita and Boondi Raita. I usually pick a seasonal ingredient for my raita or a vegetable that has not been used in the accompanying meal. The ratio of yogurt to vegetable is totally subjective as is the consistency. Many of the flavoring ingredients in these Raita recipes are optional subject to availability.
ingredients:
1 medium potato, boiled and peeled and diced, about 1 cup (see notes)
1 cup yogurt
1/3 tsp. salt
1/4 tsp. roasted cumin powder (see notes)
1/4 tsp. minced green chilies (optional)
1/2 tsp. sugar
2-3 tbsps. chopped green onions (optional)
few mint leaves, chopped (optional)
about 1/2 cup buttermilk or milk for thinning the Raita
notes:
Potato can be cooked in the microwave on 'bake' setting.
Dry roast cumin seeds in a skillet until they start to change color and turn fragrant. Grind into a coarse powder.
Or add 'Tadka' to Raita by frying a combination of spices like mustard seeds, curry leaves, cumin, dried chilies and asafoetida in 1/2 teaspoon oil and pouring it over  Raita just before serving.
preparation:
Cut boiled potato into small cubes while still warm.
Whisk yogurt in a bowl, breaking up any lumps.
Blend in all seasonings.
Fold in potato cubes.
Potato Raita tastes better if it is made at least an hour ahead of time for potatoes to absorb the flavors.
Potatoes soak up liquid, add milk or buttermilk for the right consistency.
Taste and adjust seasonings and serve at room temperature with Imli Sonth!
Copyright © Rashmi Rustagi 2012. All Rights Reserved.
---