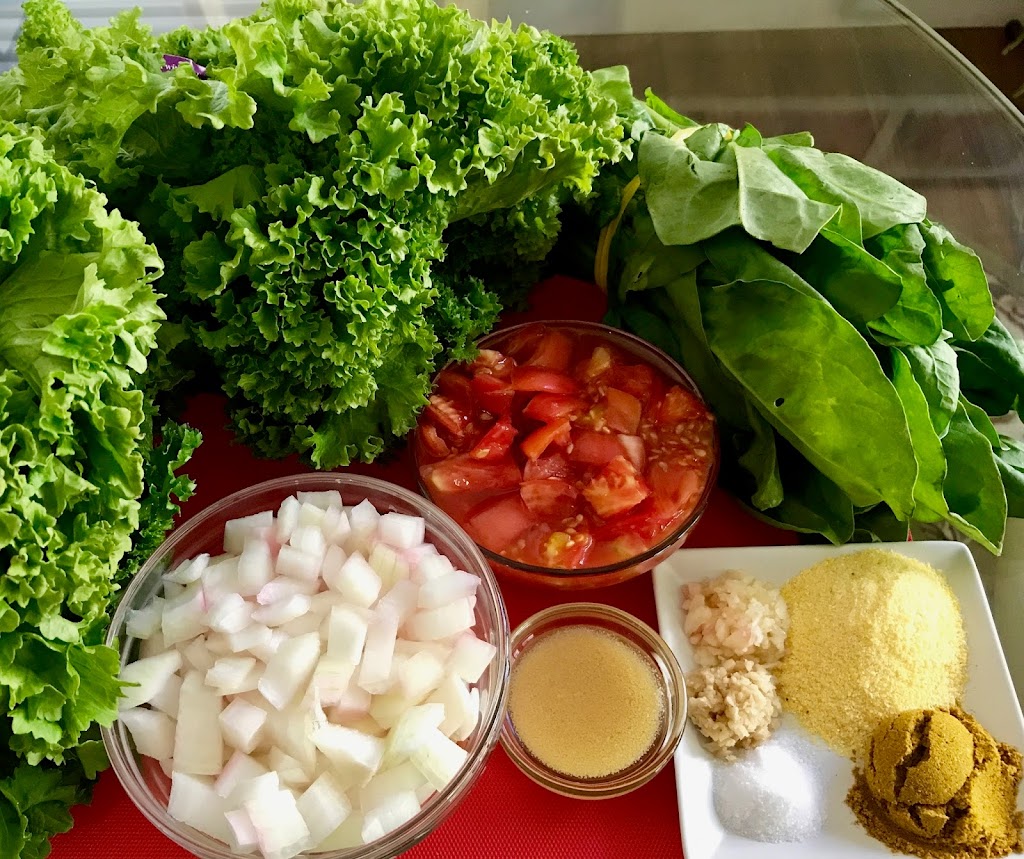 Spunky, spicy and intense in flavor, mustard greens originated in the Himalayan regions of India where they are a winter vegetable. In Spring you can see miles and miles of bright yellow fields when the mustard plant starts to bloom!
Fortunately mustard greens are available almost all year round in America. A cruciferous vegetable, they rank high in nutrition value among the others in the family-broccoli, cauliflower, kale, Brussels sprouts etc.
When cooking these beautiful, brightly colored greens, I sometimes simply saute them in some ghee with a little salt, pepper and lemon juice. Adding a few spinach leaves gives it a creamy texture.
The following recipe is a popular version sold in restaurants, what we call the Punjabi version.  This style of preparing mustard greens or 'Sarson Ka Saag' is very popular in the Punjab region and is served with thick, hand rolled corn rotis drizzled with butter or ghee. It is such a great combination and so delicious! The addition of spinach, onion and tomato helps tone down pungency and makes it a complete dish.

ingredients:
4 tsps. ghee or butter
3/4 cup chopped onion
1 tsp. minced garlic
1 tsp. minced ginger
2 tsps. Rashmi's Blend
1 lb. finely chopped mustard greens
1/4 lb. finely chopped spinach  (see notes)
1 cup chopped tomatoes
1/2 tsp. salt
1 Tbsp. corn flour (optional) (see notes)
1/2 cup water
2 tsps. lemon juice (optional)
notes:
Use less spinach if you like the pungency of the mustard greens.
The corn flour helps to bind the greens together and give them a smoother texture.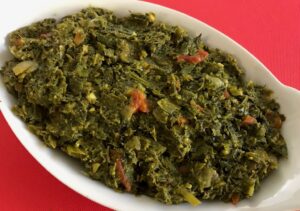 preparation:
Heat 3 teaspoons of ghee in a skillet, over medium heat, saving one teaspoon ghee for later.
Add the onions and saute until golden.
Add garlic, ginger and stir for a few seconds.
Add Rashmi's Blend, stir for a few seconds until spices turn fragrant.
Add mustard greens and spinach, stir to mix the spices.
Add tomatoes, salt and the cornmeal mixed with water to prevent lumping.
Stir, cover the skillet and simmer for 8-10 minutes, stirring occasionally.
Option: At this point you can use a blender or immersion blender to roughly puree the greens to give them a smoother texture as is done by most restaurants. I prefer not to.
Taste and adjust the seasonings, adding lemon juice if needed.
Drizzle with the remaining ghee and serve warm with rice or thick, warm corn tortillas.
Copyright © Rashmi Rustagi 2018. All Rights Reserved.
---