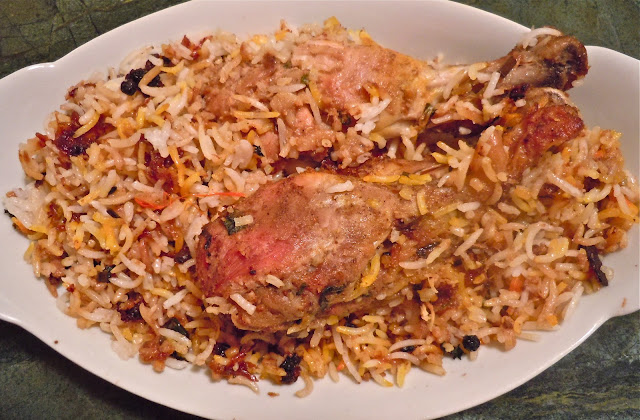 Biryani is one of the popular dishes introduced to India by the Persians. This rice dish can be made with any meat and/or vegetable. I grew up in Lucknow where this signature dish is prepared by cooking rice and meat separately and combining them toward the end of the cooking. I like to save time by doing most of the cooking in the oven. It turns out perfect every time!
ingredients:
for marinating chicken:
2 lbs. bone-in, skinless chicken pieces (see notes)
1/2 cup whole milk yogurt
1/2 cup fried onions (see notes)
1 tbsp. lemon juice
5-6 cloves garlic, minced
1 inch cube ginger, minced
1 1/2-2 tsps. Garam Masala
1 tsp. coriander powder
1 tsp. cumin powder
1/2 tsp. cayenne pepper
1/4 tsp. nutmeg powder
1/4 tsp. mace, crumbled
3/4 tsp. salt
1/4 cup chopped fresh mint
1 tbsp. vegetable oil or melted butter
for rice:
1 1/2 cups Basmati rice
2 cups hot water
1 tsp. black peppercorns
1/2 tsp. black cumin seeds (use regular cumin seeds if black cumin is not available)
2 bay leaves
4 cloves
3 green cardamoms
2 inch stick cinnamon, broken in half
3/4 tsp. salt
1 tbsp. vegetable oil or butter
for garnish:
1/2 cup fried onions (see notes)
1/2 cup chopped fresh mint
1/4 tsp. saffron, dissolved in 1 tbsp. water
6-8 drops yellow food color
notes:
I use 2 pounds of bone-in drumsticks or thighs or 1 1/2 lbs. of boneless thighs.
You can buy fried onions or fry 2-2 1/2 cups thinly sliced onions in 1 cup of vegetable oil until browned, drain on paper towels. You can watch the video about learning how to fry onions.
preparation:
Combine chicken and all the marinade ingredients and refrigerate for at least 4-5 hours or overnight.
Preheat oven to 350 degrees F.
Bake chicken in an oven-proof pan or skillet large enough to hold chicken and rice for 20 minutes.
Turn chicken pieces over and bake for 20 more minutes. (Total baking time 40 minutes).
If using boneless meat, reduce total baking time to 25 minutes.
In the meantime, rinse and soak rice in 3-4 cups of water for 30 minutes or more. Drain rice.
In a medium saucepan, heat oil/butter.
Add whole spices salt and rice, stirring to coat rice with oil.
Add two cups of hot water and bring rice to a rolling boil, turn down the heat and simmer for about five minutes.
Take chicken out of the oven and layer the half-cooked rice on top of the chicken.
Sprinkle with fried onions, mint, saffron and dot with 6-7 drops of yellow food color.
Cover the pan, lower oven temperature to 300 degrees and bake Biryani for about 20 minutes.
Serve with Raita and Chutney.
Copyright © Rashmi Rustagi 2012. All Rights Reserved.

---