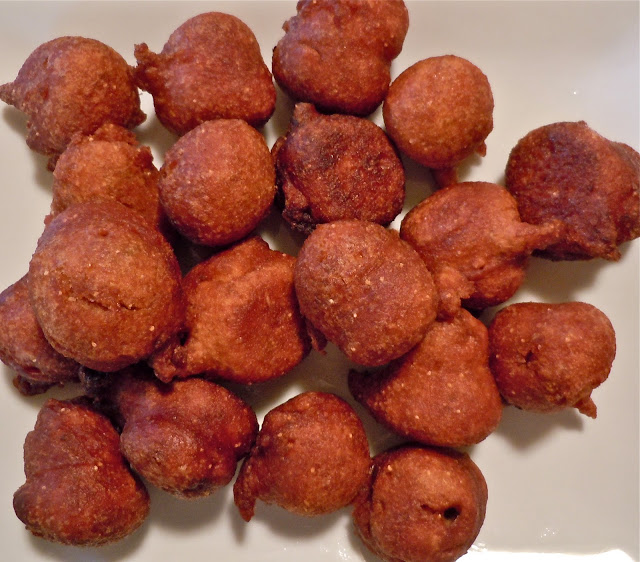 Gul Gula or Pua is a deep fried, crispy-on-the-outside, soft-on-the-inside, sweet treat that my mom made on my birthday and other special occasions. It is also one of the sweets prepared on the festival of Karva Chauth. Even though Gul Gula is deep fried, it does not soak up much oil if the temperature of the oil is right. For more tips on frying, please read my cooking notes.
ingredients:
2 cups whole wheat flour (I use chapati flour from the Indian store)
1 1/4 cups brown sugar, packed
1 cup + milk
1 Tbsp. ghee or oil
1 1/2 tsps. crushed fennel seeds
a pinch of salt
2 tsps. coconut powder or flakes (optional)
1 1/2 tsps. poppy seeds (optional)
a pinch of baking soda
for frying:
2-3 cups of oil
preparation:
Mix all of the ingredients except baking soda in a mixing bowl or electric mixer and beat until well blended. The consistency should be thicker than pancake batter.
Rest batter for 25-45 minutes at room temperature.
Blend in baking soda.
Heat oil in a frying pan on medium heat. The oil should be at least one inch deep.
Drop a teaspoon of batter in oil. If the oil is the right temperature (it should register 325 degrees on a frying thermometer), the batter will sizzle and stay rounded.
Drop tablespoon size batter into the oil and fry for 3-4 minutes, turning over halfway through the frying until Gul Gula is evenly browned.
Drain on paper towels and serve warm.
Copyright © Rashmi Rustagi 2012. All Rights Reserved.
---