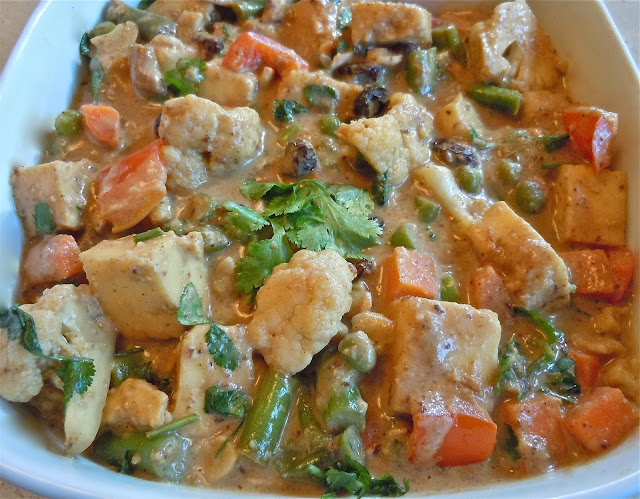 The word Navratan means nine jewels so the creamy, delicious Navratan Korma is made with a combination of nine different vegetables and nuts. The multicolored vegetables in a light sauce look like jewels indeed. You can use any vegetable and nuts of your choice.
Instead of chopping and frying fresh onions, I sometimes use fried onions bought at the Indian store, grinding them before adding to the gravy for smoothness.

ingredients: 
1 1/2 tbsps. butter or vegetable oil
1 medium onion chopped (1 1/2 cup) or 1/2 cup fried onions
4-5 garlic cloves
3/4 inch cube ginger
1 cup cauliflower, cut into bite size flowerets
1/2 cup fresh green beans cut into 1/2 inch pieces
6 oz. paneer, cut in half inch cubes
1/2 cup diced carrots
1/2 cup frozen green peas
1/2 cup diced red/orange bell peppers
1/2 cup peeled, diced zucchini squash
1/4 cup cashew pieces, raw or roasted
1/4 cup raisins
2 tbsps. tomato paste or 1/2 cup tomato puree
1 tbsp. Garam Masala
1 tsp. salt
1/4 tsp. cayenne pepper
1/2 tsp. sugar
1/2 cup heavy cream
1/4 cup chopped coriander leaves for garnish (optional)
preparation:
In a medium saucepan, heat 1 tbsp. oil on medium heat.
Add onions, fry until golden brown (skip this step if using fried onions).
Place onions in a blender or use an immersion blender to grind onions, garlic and ginger to a smooth paste, adding one cup of water.
Heat remaining 1/2 tbsp. oil in a medium saucepan, add onion paste, cook for 2-3 minutes, stirring frequently.
Add cauliflower and green beans.
Add one cup of water, cover and simmer for 3-4 minutes.
Add carrots, bell pepper, peas, paneer, raisins, cashews, salt, sugar, cayenne and Garam Masala.
Bring to a boil and simmer until vegetables are almost cooked, about 10 minutes.
Add cream, continue to cook until vegetables are done.
Taste and adjust seasonings.
Garnish with chopped coriander leaves and serve.
Copyright © Rashmi Rustagi 2012. All Rights Reserved.
---