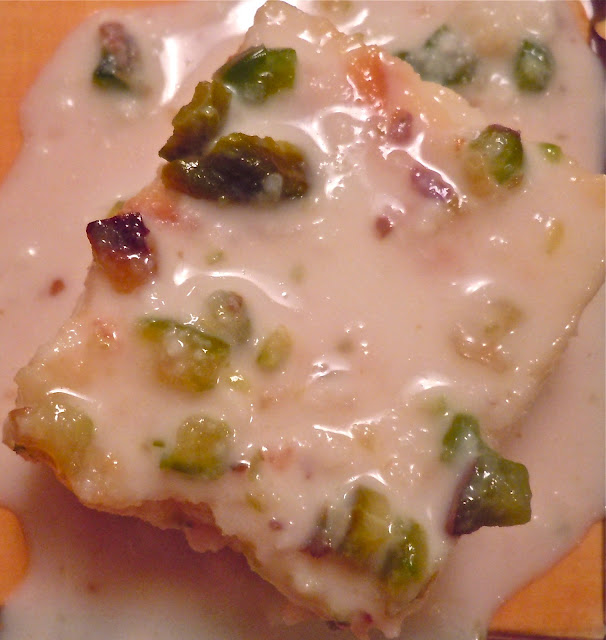 Rabri Malai Burfi is a creamier, baked version of Milk Burfi and an easier version of Ras Malai. Adding half-and-half reduction sauce to the Burfi at the end makes it taste like Ras Malai without the hard work! Traditionally, Rabri is made by cooking sweetened milk and cream in an open, wok-like pot. The layer of cream (Malai) that forms on the surface of the milk is set aside and the process continues until cream-milk mixture is reduced to a pudding like consistency. This takes hours and requires milk that has not been homogenized for the cream to collect on top. My simplified version tastes similar to the real Rabri without all the cooking and stirring.
ingredients:
2 lbs. whole milk ricotta cheese
1 cup sugar
1 can evaporated milk
few drops of kewra essence (see note)
for sauce:
3 cups half and half
1/2 cup sugar
few drops kewra essence (see note)
2-3 tbsps. crushed pistachios
note:
Kewra essence is available at Indian markets.

preparation:
Preheat oven to 350 degrees F.
Mix ricotta, sugar, evaporated milk and Kewra in a bowl.
Pour into a 9×13 glass pan, place pan in the oven.
To make sauce, mix half and half and sugar in a heavy bottomed, oven-proof sauce pan. I use an enameled pan, and place in the oven as well. (Do NOT use a non-stick pan).
Bake both sauce and Burfi for 30 minutes.
Stir sauce (not Burfi) to keep from sticking to the bottom of the pan.
Continue to bake for another 30 minutes until top of Burfi turns golden brown.
Sauce should be reduced to about 2 cups.
Take both pans out of the oven and cool.
Add Kewra and pistachios to sauce, mix.
Burfi and sauce can be chilled at this point.
Cut Burfi into 2 inch squares, place a piece in a serving plate and pour 2-3 tablespoons of sauce over it.
Serve chilled or at room temperature.
Copyright © Rashmi Rustagi 2012. All Rights Reserved.
---