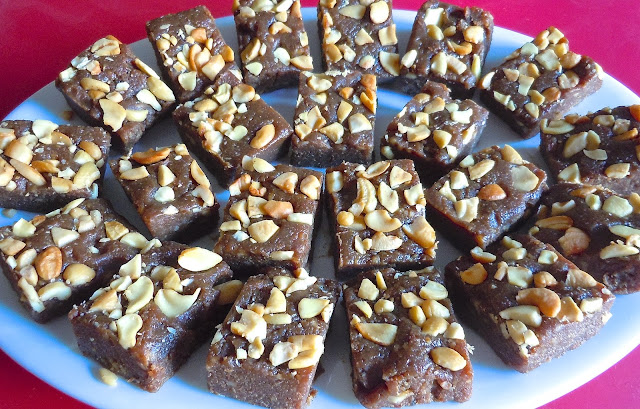 I love the caramelized taste of Laal Burfi. It reminds me of the Burfi or Peda sold in Mathura and Ayodhya in India. I have tried many ways to accomplish this flavor and color in my Laal Burfi until I started using brown sugar. This allowed me to get the right color without having to add a lot more coco powder which made the Burfi too chocolaty taste. I love chocolate and make a two layer Chocolate Burfi which is very popular with my kids but the coco in Laal Burfi is mainly for color. I also added powdered almonds for the granular texture and used very little butter.
Try Laal Burfi, you will love the flavor and fudge like texture!
yield:
About 24 pieces

ingredients:
2 tbsps. unsalted butter or ghee
2 cups dark brown sugar
1 1/2 cups almond powder (coarsely ground)
15-16 ozs. ricotta cheese
1 tbsp. coco powder
1 1/2 tsps. cardamom powder
1/2 cup cashew pieces, roasted, unsalted
1/2 tsp. butter or ghee to grease the cookie sheet.
preparation:
Butter a small baking pan or cookie sheet with at least 3/4 inch sides and set aside.
Melt butter in a non-stick saucepan on medium heat.
Add sugar, stir until it melts completely and looks like a smooth paste.
Add almond powder, stir for a minute.
Add ricotta cheese, coco powder and cardamom.
Continue to stir and cook until Burfi batter is thick and pulls away from the sides of the pan.
Spread 3/4 inch thick into a square or rectangle on the buttered cookie sheet. Pat down with your hands for uniform thickness.
Sprinkle cashew pieces and gently press them into Burfi.
Cool completely, cover and cool in the refrigerator before cutting into small rectangles or squares.
Copyright © Rashmi Rustagi 2013. All Rights Reserved.
---