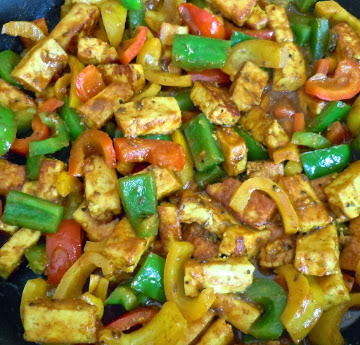 Chili Paneer is a combination of fried Paneer chunks and a variety of Bell Peppers. Since green Bell Peppers are stronger in flavor than red and yellow peppers, this combination brings a complexity of flavors and makes a very colorful presentation at the table. Paneer is easily available at Indian markets or can be made at home, following my How to Make Paneer recipe. Frying Paneer before adding to the peppers adds flavor; Paneer can be deep fried until golden or pan fried in a non-stick skillet. I skip the frying altogether when in a hurry.
ingredients:
14 ounces paneer, cut into 1/2 inch thick and 1 inch long chunks
2 tbsps. vegetable oil
1 medium sized green Bell Pepper, cut into one inch strips
1 medium sized red Bell Pepper, cut into one inch strips
1 medium sized yellow Bell Pepper, cut into one inch strips
1 tsp. cumin seeds
1 tsp. minced ginger
1 tsp. turmeric
1 tbsp. Achaar Masala (see note)
1 tsp. or more minced green chilies
1/4 cup tomato puree
1 tsp. salt
1/2 cup water
2 tbsps. Balsamic or red wine vinegar (optional)
oil for deep/pan frying
note:
You can also buy Achaar Masala on my shop page.
preparation:
Heat a non-stick skillet on medium heat.
Add 1-2 teaspoons oil and fry Paneer pieces, turning occasionally until golden brown. Set aside.
Add 1-2 teaspoons oil to the skillet and stir fry Bell Peppers on high heat until peppers are barely cooked. Cook in 2 batches if the skillet is small. Set aside.
Heat 1 tablespoon oil in a large skillet on medium heat.
Add cumin seeds. When the seeds start to crackle, add ginger, turmeric, Achaar Masala and green chilies.
Stir for 5-10 seconds until the spices turn fragrant.
Add tomato puree, salt and water.
Bring to a boil, add Paneer and Peppers, stir to mix until the mixture starts to simmer.
Turn the heat off (add vinegar), cover and let rest for a few minutes for the vegetables and Paneer to absorb the flavors.
Taste and adjust the seasonings.
Serve with rice.
Copyright © Rashmi Rustagi 2013. All Rights Reserved.
---