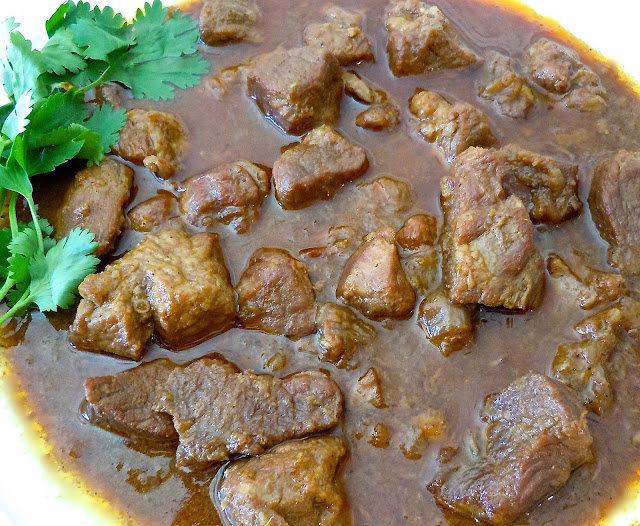 Pork was never cooked in my mother's kitchen in India. The only time we ate pork was in Chinese dishes in restaurants. My first taste of Pork Vindaloo was in an Indian restaurant in Toronto and I loved the sweet and tangy flavors. Most restaurants add potatoes to their Vindaloo since Aloo means potato in Hindi. Vindaloo is a Portugese dish which literally means wine and garlic.
Since I love to cook with wine (Beef Bourguignon is my favorite French dish), I use a generous amount of red wine in my Vindaloo. Vinegar and brown sugar give it the sweet-tart taste that sets the Vindaloo apart from other Indian curries. Cooking the pork in a pressure cooker really cuts down on the time, alternatively it can be simmered on the stove for 40-45 minutes. You can try this recipe with lamb, mutton or chicken.
ingredients:
3 tbsps. vegetable oil
1 1/2 cups chopped onions
4-5 cloves garlic, minced
1 inch cube ginger, minced
1 tbsp. Rashmi's Blend
1 1/2 lbs. boneless pork shoulder blade roast, cubed into 3/4 inch pieces
1/2 tsp. cayenne pepper
1 tsp. salt
2 tsps. brown sugar
4 tbsps. red vine vinegar
3/4 cup red wine
1 tbsp. Garam Masala
1 tsp. Kashmiri Chili powder (optional) (see note)
1/4 cup chopped coriander leaves (optional)
note:
Kashmiri Chilis are not very hot but impart a nice red color to the dish. You can use mild paprika instead. You can buy Rashmi's Blend and Garam Masala on my shop page.
preparation:
Heat oil in a 4 or 6 quart pressure cooker pan on medium heat.
Add onions and fry until golden brown, about 12 minutes.
Add ginger, garlic and Rashmi's Blend. Stir until spices turn fragrant, 15-20 seconds.
Add pork, cayenne pepper, continue to stir until the meat is browned on all sides, about 5 minutes.
Add salt, sugar, vinegar, wine and Garam Masala, mix and cover with the pressure cooker lid.
Lock the lid and wait until the pressure builds up.
Lower the heat to medium-low and cook for 15 minutes under pressure.
Take the pan off the heat and wait for the pressure to die down completely (about 15 minutes) until the pressure indicator lowers.
(If not using a pressure cooker, simmer covered on the stove until tender, about 40 minutes).
Taste and adjust seasonings.
Garnish with coriander and serve with rice.
Copyright © Rashmi Rustagi 2013. All Rights Reserved.
---