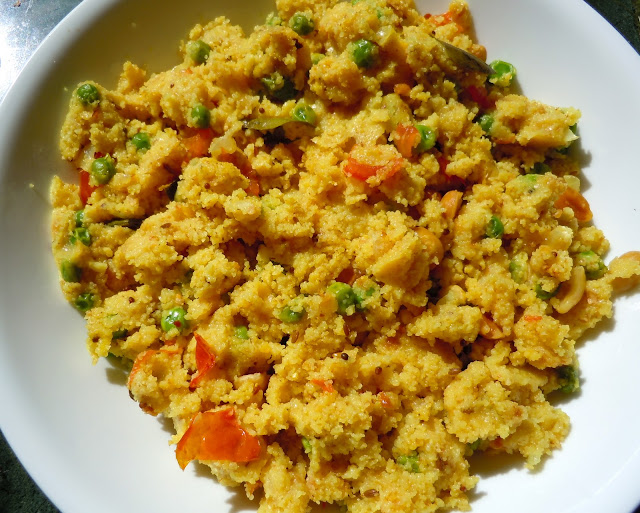 Upma is a savory version of Halwa and can be served for breakfast, lunch or dinner. Yogurt Raita and salad are great accompaniments. This is a shortcut, microwave version. You can also cook it on the stove top.
ingredients:
3/4 cup cream of wheat or semolina or sooji
1/2 tsp. black mustard seeds
1/2 tsp. cumin seeds
1 1/2 tbsps. vegetable oil
1/2 tsp. crushed red pepper
1/2 tsp. minced fresh ginger
10 curry leaves (see notes)
1/2 cup fresh or frozen peas
1/2 cup shredded or diced carrots
1 medium tomato, diced (optional).
1/2 tsp. turmeric
1/2 tsp chopped green chilies (optional)
1/2 cup onions, chopped (optional, see notes)
1 tsp. salt
1 1/2 cups water
1/4 cup toasted peanuts or cashew pieces (optional)
coriander leaves and lime wedges for garnish
notes:
If using onions, saute them in 1/2 tablespoon oil in a pan on the stove (it is tedious to fry onions in the microwave). You can use 1/4 cup fried onions sold in Indian grocery stores instead.
Curry leaves are fragrant leaves that give a spicy flavor to Upma (see picture). They are used in many South Indian dishes and are available fresh or dried at Indian grocery stores.

preparation:
Mix cream of wheat, mustard seeds, cumin and one tablespoon oil in a microwave safe bowl.
Cook for 2 minutes, stir.
Add red pepper, ginger and curry leaves. Roast for one minute. Cream of wheat should be light brown in color and have a roasted, nutty fragrance. If not, roast for one more minute (watch Halwa video to learn more about roasting cream of wheat).
Stir in vegetables, turmeric (onions, green chilies), salt and water. Microwave on high for 3-4 minutes until Upma comes to a rolling boil.
Cook 2 more minutes on high. If the consistency is soupy, cook an additional minute.
Cover and rest Upma for 5 minutes.
Mix in peanuts and/or cashews
Garnish with coriander leaves and lime wedges, serve warm.
Copyright © Rashmi Rustagi 2012. All Rights Reserved.

Gluten Free Upma with Cream of Rice or Grits:
Follow Upma recipe substituting cream of wheat with Cream of Rice or Grits, following the package directions for the recommended amount of water. Tastes just as great!
---