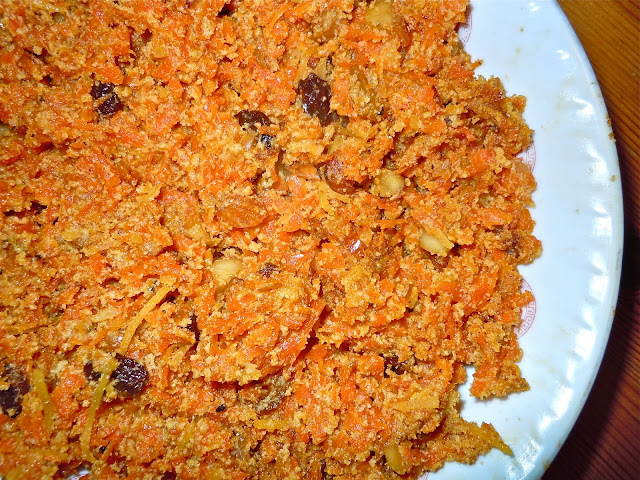 Carrot Halwa is a popular Indian dessert, specially during the winter season when it is served warm. My mother made it with 'black carrots' which are darker, almost like beets in color, giving Gaajar Halwa a deep, ruby-red color. (Black carrots are available at the local farmer's market sometimes). Traditionally, grated carrot is cooked in milk on the stove, with lots of butter, for hours until it reaches a thick, mashed potato like consistency. My low fat version takes only 20-25 minutes by using ricotta cheese. I like to add nuts to my Halwa, you can omit them or use nuts of your choice.
ingredients:
1 tbsp. butter
2 tbsps. cashew pieces
2 tbsps. almonds (chopped, slivered or sliced)
1/2 tsp. cardamom powder
3/4 pound carrots, peeled and grated (about 2 1/2 cups)
3/4 cup sugar
2 tbsps. raisins
2 tbsps. shredded coconut
6 ozs. ricotta cheese (3/4 cup)
2 tsps. melted butter or ghee or fresh cream (optional)
preparation:
Melt butter in a heavy bottomed sauce pan on medium heat.
Add almonds and cashews and stir until lightly toasted.
Add cardamom and carrots, saute for 2-3 minutes.
Add sugar, raisins and coconut, stir. Carrots will release water as the sugar melts, cover and simmer for 3-4 minutes.
Uncover and continue to cook on medium heat, stirring until all the water has evaporated, about 4 minutes.
Add ricotta, continue to cook on low heat, stirring occasionally.
Gaajar Halwa is ready when it starts to brown and stick to the pan.
Place in a serving bowl (drizzle with melted butter or ghee or fresh cream) and serve warm.
If Halwa gets too dry when cooled, mix in a few tablespoons of cream.
Copyright © Rashmi Rustagi 2011. All Rights Reserved.
Sweet Potato Halwa:
Follow the recipe above, substituting with grated sweet potatoes. Season with 1/2 tsp. cinnamon and 1/4 tsp. each nutmeg and clove. Great dish to serve on a cold winter day!
---