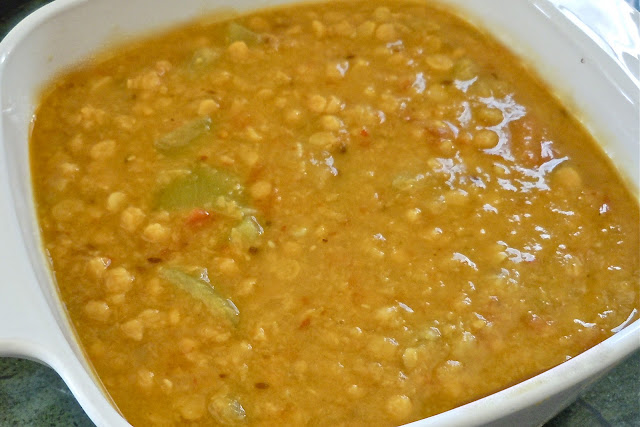 Chana Daal with Squash is one of my favorite Daal recipes and I make it often! You can use any one of the many squashes available but I like the taste of Bottle Gourd, also known as Opo squash or Ghiya or Lauki. Because of its mild taste, Lauki lets the Chana Daal flavor come through.
ingredients:
2 cups Opo Squash (Lauki) or zucchini, peeled and diced
1 cup chana daal, washed and soaked for 2-3 hours
3 cups water
1 medium tomato, chopped, or 1/2 cup canned tomato
1 small onion, chopped
1-2 tbsps. butter/ghee/oil
1/2 tsp. cumin seeds
1/2 tsp. minced garlic
1 tsp. fresh ginger, minced
2 bay leaves
1/2 tsp. crushed red pepper
1/2 tsp. turmeric
4 whole cloves
1 inch stick cinnamon
1 cardamom pod
1 tsp. salt
Fresh coriander, chopped (optional)
preparation:
Melt butter in a 4 quart or larger saucepan over medium high heat.
Add cumin seeds, stir until they start to pop.
Add onions and sauté until transparent.
Add garlic, ginger, and spices (if using Garam Masala, add it when Daal is cooked), stir.
Add tomatoes, zucchini, Daal and water. Bring to a boil, cover, and simmer until beans are soft to touch, approximately 45 minutes.
Daal can be cooked in a pressure cooker for 5 minutes after the pressure is built or in a slow cooker for 4 hours on high setting.
Add coriander and serve with rice and roti.
Copyright © Rashmi Rustagi 2012. All Rights Reserved.
---