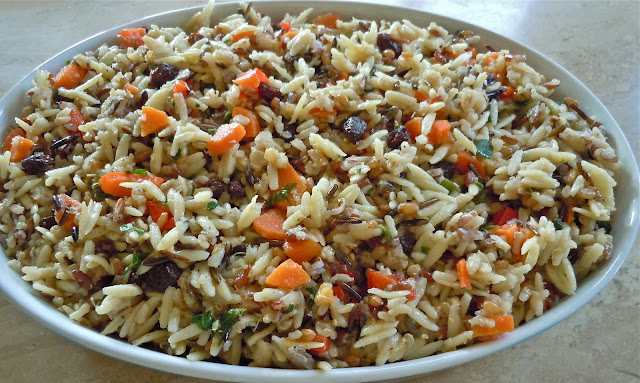 Most people do not eat enough whole grains these days. There is such a large variety of grains in the market now and each grain has its own dietary benefits. I lived on a farm for a few years in India and my mother created delicious meals, desserts and snacks using all the available grains. I created this recipe by mixing the grains I had in my pantry and it has been a hit with my family ever since!
Multigrain Pilaf is a great dish to serve with turkey instead of stuffing.
ingredients:
1/2 cup wild rice
1/2 cup wheat berries or farro
1/2 cup hulled barley (hulled barley has more nutrition than pearled barley)
1/2 cup brown rice
2 cups chicken broth or vegetable broth
1 tsp. salt
1/2 cup raisins or dried cranberries or a combination of both
3/4 cup orzo
4 tbsps. olive oil, divided
3/4 cup diced carrots
1 small red bell pepper, diced
1/2 cup green onions, finely chopped
1/2 tsp. black pepper
1/4 tsp. cayenne pepper
2 tbsps. lemon juice
1/2 cup finely chopped parsley (optional)
note:
This dish can be prepared 1-2 days in advance and reheated before serving.
preparation:
In a medium saucepan, soak rice, wheat and barley in water for 2-3 hours or overnight.
Drain, add broth, 1/2 tsp. salt, bring to a boil, cover and simmer until tender, about 20-25 minutes. (add a little more broth or water to keep it from drying out).
Add raisins and cranberries just before taking the pot off the stove.
At the same time, in a separate pot, cook orzo following package directions, drain.
Heat 2 tablespoons oil in a frying pan, add carrots, bell pepper and onions. Saute for 3-4 minutes, add salt, black pepper and cayenne pepper.
In a large bowl combine cooked grains, orzo, vegetables, remaining 2 tbsps. olive oil, 1/2 tsp. salt, lemon juice and parsley. Mix well, taste and adjust seasonings.
Transfer to a serving bowl and enjoy!
Copyright © Rashmi Rustagi 2012. All Rights Reserved.
---