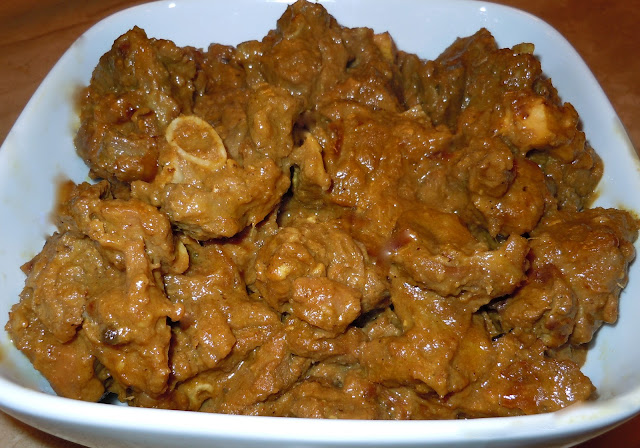 There are several theories why a dish is called 'Do Pyaza'. 'Do', (pronounced like the word 'though') means two in Hindi and 'Pyaz' means onion. One theory suggests that the weight of the onion is twice that of the meat; another that only two onions are used. The most practical theory is that the onions are used in two different ways-raw and fried which is what I do in my 'Do Pyaza' recipes. The raw onions are slowly cooked with the meat, enhancing the flavor. The fried onions, added toward the end boost the color of the dish, adding a caramelized sweetness. This is a very easy, low fat recipe.
ingredients:
2 1/2 lbs. bone-in or 2 lbs. boneless mutton or lamb
1 1/2 cups onions, chopped
10 whole cloves
3 inch stick cinnamon, broken into 2-3 pieces
4 whole black cardamoms
1/2 tsp. crumbled mace
1 tsp. salt 
1/2 cup oil for frying the onions
2 cups onions, sliced
1 1/2 tbsps. olive or mustard oil
2 tbsps. Rashmi's Blend
5-6 cloves garlic, minced
1 inch cube of ginger, minced
1 lb. (one cup) whole milk yogurt
1 tsp. Garam Masala (optional)
1/2 cup chopped fresh mint or coriander or a combination of both (optional)
preparation:
Rinse and drain  meat, p

lace in a medium saucepan or dutch oven. 

Add one cup water, 

1 1/2 cups chopped onions, cloves, cinnamon, cardamom, mace and salt. 

Bring to a boil, cover and simmer for about 30 minutes or until almost cooked. (You can cook  meat in a preheated oven instead, at 350 degrees F, for about 35 minutes).

In the meantime, heat 1/2 cup oil in a skillet. 

Add sliced onions and fry on medium heat, stirring often until the onions turn reddish brown in color (see picture. You can also watch the video on

'how to fry onions'

). Drain on paper towels. 

Throw away any oil left in the skillet. 

Heat the skillet and add 1 1/2 tablespoons olive or mustard oil.

Add Rashmi's Blend, stir for a few seconds as the spices turn fragrant. 

Add garlic and ginger, stir for 15 seconds. 

Add this mixture to the pot with meat along with fried onions, yogurt and Garam Masala.

Add a little water if the meat is too dry. 

Simmer, covered, for another 10-15 minutes or until done. 

Taste and adjust seasonings.

Garnish with fresh coriander or mint and enjoy!
Copyright © Rashmi Rustagi 2012. All Rights Reserved.
---