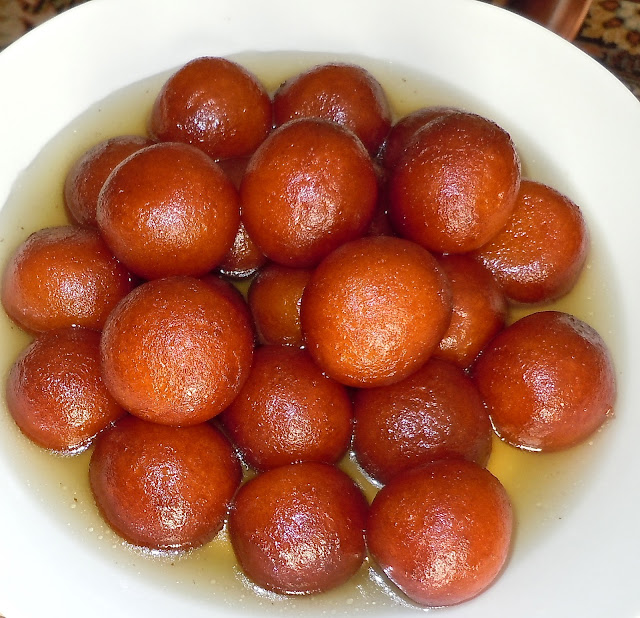 Gulab Jamun is one of the most popular Indian desserts. It is a rose flavored, reddish-brown dumpling which is fried and then dipped in syrup. Gulab means rose, which is the flavor used in making this dessert and Jamun is a purple berry that Gulab Jamuns resemble. Gulab Jamun is traditionally made with 'khoa' which is obtained by cooking milk down to a solid consistency. Since 'khoa' is hard to find, most recipes use only powdered milk which makes a very pasty dumpling. My recipe uses powdered milk and ricotta cheese which gives it a nicer, grainy, khoa like texture.
yield:
24 pieces
ingredients:
1 cup powdered milk
1/4 cup flour
1/2 tsp. baking powder
3 tbsps. ghee or unsalted butter, melted
1/2 cup ricotta cheese at room temperature
a pinch of salt
1-2 tbsps. of milk, if needed
About 2 1/2 cups of oil for frying
syrup:
2 cups sugar
2-3 cups water (see note)
1/2 tsp. lemon juice
3-4 drops of rose flavoring
a pinch of saffron (optional)
note:
Add 3 cups of water if you prefer your Gulab Jamuns less sweet.
preparation:
Mix powdered milk, flour and baking powder in a bowl.
Mix in butter, ricotta cheese and continue to mix until it looks like a sticky dough (you may have to add 1-2 tablespoons of milk if the ricotta is too dry).
Let the dough rest for 10-15 minutes at room temperature.
In the meantime, bring sugar, water, lemon juice and (saffron) to a boil in a medium saucepan. Turn the heat down to simmer, cover the pan.
Divide dough into 24 equal pieces and roll into smooth balls, pressing down between your palms to get rid of any cracks.
Heat oil, at least 3/4 inch deep, in a 10 inch frying pan on medium-low heat. To test if the oil has reached the right temperature, drop a peanut size piece of dough in the oil, it should take 30-40 seconds to float up to the surface (if it sizzles and floats up right away, the oil is too hot, turn the heat down and cool the oil. If it does not sizzle, the oil is too cold, Gulab Jamuns will fall apart).
Carefully drop Gulab Jamuns in hot oil. Fry until golden brown (5-7 minutes), stirring to make sure they brown evenly.
Drain on paper towels for 2-3 minutes.
Bring syrup to a boil again, add Jamuns to the syrup, stir. Add 3-4 drops of rose essence, turn the stove down, cover and simmer for 3-4 minutes, until Gulab Jamuns are soaked through.
Cool Gulab Jamuns in the pot before serving.
Serve at room temperature or warm!
Copyright © Rashmi Rustagi 2012. All Rights Reserved.
---