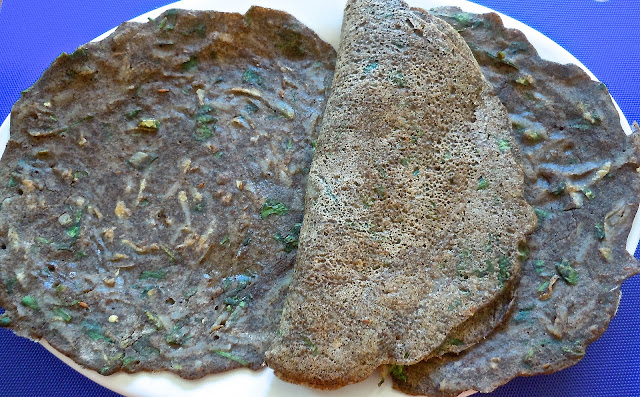 My family always kept a vrat or fast during the nine days of 'Navratri' when I was growing up in India. As kids, we looked forward to the fasting because the food was so different and delicious. My mom would make tangy potatoes with buckwheat Puris fried in ghee among other delicacies.
Buckwheat, called Kuttu in Hindi, does not have any gluten and so is very hard to roll into Puris or Parathas. I like to make it into a Chilla which is a crepe like flat-bread made from a batter, eliminating the need for rolling the dough and the calories from deep frying.
You can make plain Chilla with just flour, water and salt or you can add grated or chopped vegetables to the batter, I like to add grated potatoes to the batter. You can also serve a vegetable on the side or rolled up in the Chilla.
yeild:
About 5 or 6 Chillas
ingredients:
3/4 cup buckwheat flour
1 medium potato, peeled and grated (about 3/4 cup)
1/2 tsp. salt
1/2 tsp. minced green chilies
1/4 cup minced coriander leaves
1/2 tsp. toasted cumin seeds (see note)
3/4 cup water
2-3 tsps. ghee, butter or oil for frying
note:
Heat a non-stick skillet on medium heat. Add cumin seeds, dry-roast for a few seconds until light brown in color and fragrant.

preparation:
Place Buckwheat flour, potato, salt, chilies, coriander leaves, cumin seeds and water in a bowl.
Mix into a smooth batter, about 10-15 strokes by hand; set aside for a few minutes for the potatoes to release their liquid.
Heat a non-stick skillet on medium heat.
Lightly oil the skillet and pour about 1/2 cup of batter, spreading into a 6-7 inch circle with a wide spatula.
Cook for about 2 minutes, lightly brush with oil.
Flip Chilla over and lightly oil this side as well.
Cook for another 1-2 minutes until the potatoes turn golden brown.
Chilla will cooked in 3-4 minutes, for crispier Chilla leave a bit longer on the skillet.
Serve Chilla with Cucumber Raita and Sweet and Spicy Mango Chutney! Enjoy!
Freeze any leftovers and reheat them in a toaster-oven microwave or in a skillet.
Copyright © Rashmi Rustagi 2013. All Rights Reserved.
---