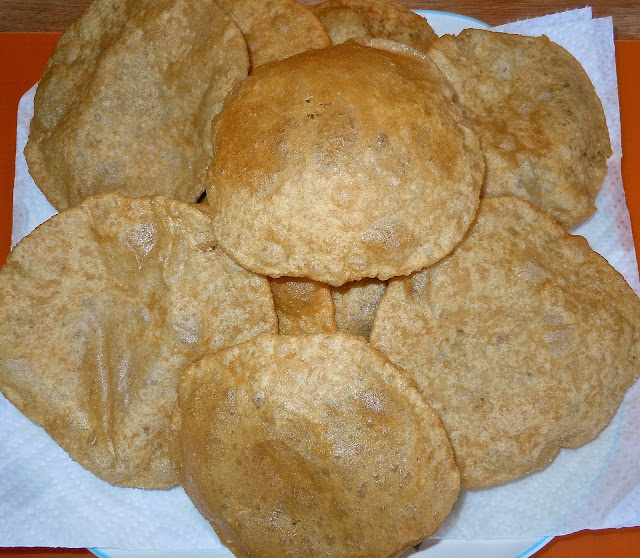 Kachoris (pronounced ka-CHO-ree) are a very unique dish from Northeast India. My Punjabi and South Indian friends are always surprised when they eat it for the first time! Kachoris are basically a stuffed puri. These are different from Khasta kachoris because they are made with whole wheat flour instead of all-purpose flour, plus there is minimal oil used in the the dough itself. The most popular filling is urad daal, although kachoris can be stuffed with other daals, potatoes, mashed green peas, and/or paneer. My mother made these kachoris for every festival and special occasion. She served them with spicy potatoes, or Jeera Aloo and tangy mashed pumpkin, or Kaddu. Makes 13-14 kachoris.

ingredients:
for the dough:
1 1/4 cups whole wheat or chapati flour
2 teaspoons vegetable oil
1/2 teaspoon salt
1/2 cup water

for the filling:
1 teaspoon whole fennel seeds
1 teaspoon whole coriander seeds
1/2 teaspoon whole cumin seeds
1/2 inch cube of fresh ginger
1/2 cup urad daal, soaked and drained
1/4 teaspoon salt
1/2 teaspoon asafoetida powder
1/3 teaspoon cayenne pepper
2 1/2 cups of oil for frying

Soak your daal: place the urad daal in a small bowl with just enough water to cover it. Soak for at least 2-3 hours on the counter. Drain and set aside.
Once your daal is prepared, make the dough: mix the flour, oil, and salt in a large bowl or food processor, slowly adding the water to make a soft but not sticky dough. Set aside.
Make the filling: combine the fennel, coriander, and cumin seeds and use a coffee grinder or mortar and pestle to coarsely grind them. Add the ground spices, salt, asafoetida, and cayenne pepper to the bowl of a food processor. Mince the fresh ginger and add it to the food processor, along with the daal. Process until coarsely ground. You want the mixture to become thick and sticky, but not finely ground to a paste. Set aside.
Divide the dough into 13-14 equal portions. On an oiled surface, pat one piece of dough into a 3 inch circle, keeping it thicker in the center. Place one tablespoon of the daal mixture in the center of the circle. Gather all sides of the dough and pinch it on top to hold the filling in (see photo). Flatten this into a 2-inch patty. Continue this process for all of the patties. Cover them with a damp towel and let rest for 10 minutes.
Using an oiled rolling pin, gently roll each patty into a 4-4 1/2 inch circle. Once rolled, place the patties back under the towel to keep them from drying out.
Heat the oil in a 9-inch frying pan on medium heat, and bring the oil temperature up to 300 degrees F. The oil should be about 1-inch deep. To test the oil temperature, drop a small piece of dough in the oil. The dough should rise to the top in 6-7 seconds.
Gently slide a kachori into the hot oil, pushing it down with the back of a spatula or slotted spoon to coax it into puffing up, about one minute. Flip the kachori over and fry for another minute. The kachori should be golden brown on both sides. Remove and drain on paper towels. Serve hot Kachoris with Jeera Aloo and/or Kaddu!
Copyright © Rashmi Rustagi 2012. All Rights Reserved.
---