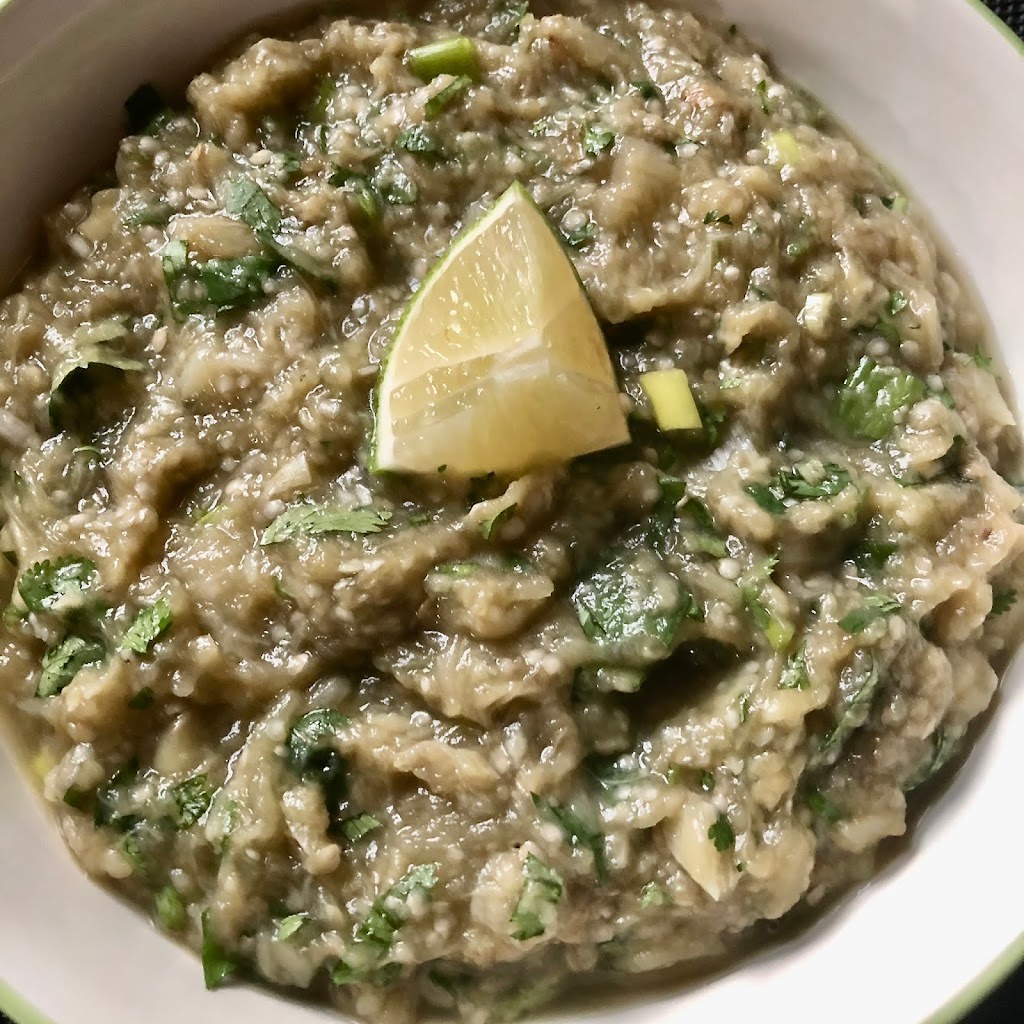 I love to grow eggplant in my garden and usually plant at least two varieties – the long Japanese variety which is great for stir-frying and the round globe one which is what I use for making Bharta. Eggplant is one of the easier annual vegetables to grow and has a long growing season in Southern California. In fact, two years ago I planted a globe eggplant next to an exterior wall. It did not die during the winter and continued producing through to the next Summer. Everyone I knew enjoyed at least one meal made from my garden eggplants!
In India, eggplant is served curried, chopped, stuffed, battered, mashed, and deep-fried as a pakora. It can soak up a lot of oil, so baking and roasting is the best way to cook it.
I posted a different version of Bharta a while back, the Punjabi version where the roasted eggplant is cooked again with onions and tomatoes. My mom preferred to make this version of Bharta, without the tomatoes. She roasted farm fresh eggplants on hot coals, which gave them a smoky flavor, and then added the cilantro and garlic greens (if available), lots of minced green chilies, topping it with pure mustard oil. The mustard oil was expelled from yellow mustard, so strong that our eyes would sting if we got too close to the bottle!
ingredients:
2-3 medium eggplants
2-3 cloves garlic, unpeeled
2-3 green onions, chopped
1 tsp. chopped green chilies (optional)
1/4 cup chopped fresh coriander
2 tsps. Extra virgin olive oil or 1 tsp. mustard oil
3/4 tsp. salt
Lemon juice (optional)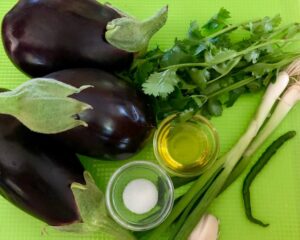 preparation:
Set the oven on broil.
Cut a small slit in each eggplant to keep it from exploding. Place them on an oven-proof tray.
Wrap garlic in a small piece of foil, place on the eggplant tray.
Broil eggplants for 10 minutes, about 5-6 inches from the broiler.
Flip and broil for another 5 minutes. The eggplant skin will be charred.
Change the oven setting to baking at 450 degrees F. Bake for 15-20 minutes, checking that the eggplants are really soft.
Remove from the oven and let the eggplants cool.
In the meantime, chop garlic, onions, and cilantro.
Peel and mash the eggplants using a potato masher or fork.
Add the chopped ingredients, salt, and olive or mustard oil.
Taste and adjust seasonings.
Squeeze some fresh lemon juice.
Serve with naan or pita bread as an appetizer or over rice or pasta!
Copyright © Rashmi Rustagi 2020. All Rights Reserved.
---